Assignment ID: FG133140720
ASE 4423 Introduction to Computational Fluid Dynamics – Mississippi State University
Problem Description
Consider a steady, viscous, uniform entrance flow into a two-dimensional plane channel (see Figure 1). The channel walls are separated by a distance 2h in the y-direction. At the entrance (x = 0), the flow is assumed to have a uniform velocity uo directed in the positive x-direction. The flow in the channel is driven by a constant pressure gradient in the streamwise direction (x-direction). Between the inlet plane and the outlet plane (x = xmax), the velocity changes from a uniform profile to a form appropriate for a fully-developed 2D parabolic Poiseuille flow for which ∂u/∂x = 0.
Save your time - order a paper!
Get your paper written from scratch within the tight deadline. Our service is a reliable solution to all your troubles. Place an order on any task and we will take care of it. You won't have to worry about the quality and deadlines
Order Paper Now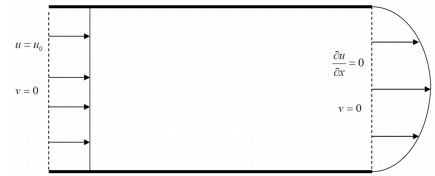 Figure 1: Entrance flow for a 2D plane channel.
Question 1. Using the half-channel height h as a length scale, uo as a velocity scale, and h/uo as a time scale; show that the non-dimensional 2D incompressible Navier-Stokes equations are
∂u/∂t = – u∂u/∂x – v∂u/∂y – ∂P/∂x + 1/Re(∂2u/∂x2 + ∂2u/∂y2)
∂u/∂t = – u∂u/∂x – v∂u/∂y – ∂P/∂y + 1/Re(∂2u/∂x2 + ∂2u/∂y2)
0 = ∂u/∂x + ∂v/∂y
where u = u(x, y) and v = v(x, y) are the non-dimensional velocity components, P (x, y) is the non-dimensional pressure, and Re = uoh/ν is the Reynolds number (ν is the kinematic viscosity).
Question 2. The pressure can be decomposed into a mean pressure ¯P (x) driving the flow and a perturbation p(x, y), i.e. P = P (x) +¯p(x, y). Show that at the outflow the velocity field is
u(y) = 1/2 |C| Re (1 – y2)
where |C| is the constant mean pressure gradient, i.e. ∂P¯/∂x = – |C|. Note that the system of coordinates is chosen such that -1 < y < 1.
Question 3. Use the conservation of mass to show that the constant |C| = 3/Re and that the x-momentum equation can be rewritten as
∂u/∂t = -u∂u/∂x – v∂u/∂y + 3/Re – ∂P/∂x + 1/Re(∂2u/∂x2 + ∂2u/∂y2)
Question 4. Write a numerical code using whichever language you are comfortable with to determine the flow in the channel assuming no-slip, impermeable boundary conditions at the walls: u(x, -1) = u(x, 1) = 0 and v(x, -1) = v(x, 1) = 0; a uniform streamwise velocity at the inflow: u(0, y) = 1 and v(0, y) = 0; and a Neumann boundary condition for the streamwise velocity at the outflow:
∂u(x, y)/∂x|x=xmax
v (x=xmax, y) = 0
Attachment:- Entrance flow for a 2D plane channel.rar
Looking for a Similar Assignment? Let us take care of your classwork while you enjoy your free time! All papers are written from scratch and are 100% Original. Try us today! Use Code FREE15
https://trustedpaperwriters.com/wp-content/uploads/2019/12/157544039158860773-300x54.png
0
0
https://trustedpaperwriters.com/wp-content/uploads/2019/12/157544039158860773-300x54.png
2022-05-12 21:47:19
2022-05-12 21:47:19
Non-dimensional 2D incompressible Navier-Stokes equations » Full Grade